From music-makers to money-makers
---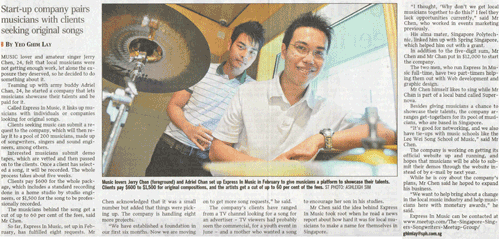 MUSIC lover and amateur singer Jerry Chen, 24, felt that local musicians were not getting enough work, let alone the exposure they deserved, so he decided to do something about it.
Teaming up with army buddy Adriel Chan, 24, he started a company that lets musicians showcase their talents and be paid for it.
Called Express In Music, it links up musicians with individuals or companies looking for original songs.
Clients seeking music can submit a request to the company, which will then relay it to a pool of 200 musicians, made up of songwriters, singers and sound engineers, among others.
Interested musicians submit demo tapes, which are vetted and then passed on to the clients. Once a client has selected a song, it will be recorded. The whole process takes about five weeks.
Clients pay $600 for the whole package, which includes a standard recording done in a home studio by studio engineers, or $1,500 for the song to be professionally recorded.
The musicians behind the song get a cut of up to 60 per cent of the fees, said Mr Chen.
So far, Express In Music, set up in February, has fulfilled eight requests. Mr Chen acknowledged that it was a small number but added that things were picking up. The company is handling eight more projects.
'We have established a foundation in our first six months. Now we are moving on to get more song requests,' he said.
The company's clients have ranged from a TV channel looking for a song for an advertiser - TV viewers had probably seen the commercial, for a youth event in June - and a mother who wanted a song to encourage her son in his studies.
Mr Chen said the idea behind Express In Music took root when he read a news report about how hard it was for local musicians to make a name for themselves in Singapore.
'I thought, 'Why don't we get local musicians together to do this?' I feel they lack opportunities currently,' said Mr Chen, who worked in events marketing previously.
His alma mater, Singapore Polytechnic, linked him up with Spring Singapore, which helped him out with a grant.
In addition to the five-digit sum, Mr Chen and Mr Chan put in $12,000 to start the company.
The two men, who run Express In Music full-time, have two part-timers helping them out with Web development and graphic design.
Mr Chen himself likes to sing while Mr Chan is part of a local band called Supernova.
Besides giving musicians a chance to showcase their talents, the company arranges get-togethers for its pool of musicians, who are based in Singapore.
'It's good for networking, and we also have tie-ups with music schools like the Lee Wei Song School of Music,' said Mr Chen.
The company is working on getting its official website up and running, and hopes that musicians will be able to submit their demos through the website instead of by e-mail by next year.
While he is coy about the company's plans, Mr Chen said he hoped to expand his business.
'We want to help bring about a change in the local music industry and help musicians here with monetary awards,' he said.
Express In Music can be contacted at
www.meetup.com/The-Singapore-Singers-Songwriters-Meetup-Group/
Yeo Ghim Lay
Source:
The Straits Times (Singapore)